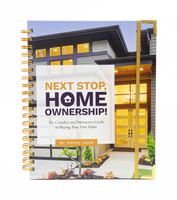 Are you a first time home buyer?
Buying a home for the first time can be an exciting yet stressful process. On one hand you're excited about living the American Dream, on another hand you're discouraged by having to save for a down payment, improve  your credit score and find the right house for you and/or your family.
Next Stop, Homeownership! provides an interactive approach to the home buying process. Designed as a companion to your partnership with a real estate agent and lender, this comprehensive guide breaks down the entire home buying process into actionable steps. As you work through the various phases of the home buying process, you're provided with tips and insights on how to avoid some of the most common homebuyer mistakes.
Enhance your home buying confidence with Next Stop, Homeownership! The Complete and Interactive Guide to Buying Your First Home.
I'M READY TO BUY MY FIRST HOME
Client Testimonials
Royce was amazing. I purchased a home all the way in Orlando, FL and she drove 2hrs to show me homes, sign contract, final walk through, and closing. She is amazing and knows what she is doing. I am a first time home owner, and she always answered all of my text messages and emails whenever I sent them. Thank you so much royce you are amazing. She also helped us fix our credit!

Drena
Royce is amazing! She made an unusual home buying situation as smooth as can be due to her diligence and compassion. She truly cares about her clients and assures their best interest throughout the home buying process. She takes her time and informs her clients so they're knowledgeable and confident during the experience. I highly recommend Royce and am thankful to her hard work on our behalf.

Mellisa
Royce was the BEST realtor. She was very helpful and was willing to answer any and every question that we had regarding the buying process. She turned out goal of owning a home into a reality. She was kind and very knowledgeable and was willing to help in any way she could! I even recommended her to my parents who recently closed on their home. Go with Royce and you won't be disappointed.

Alisha
Royce is among the best realtor i have dealt with. She is very knowledgeable, informative, helpful, courteous, and caring. Myself and my husband were treated as individuals and not numbers. She responded quickly and efficiently to all our questions and we felt at ease in making the difficult decisions.

Gretel
Royce was truly a pleasure to work with. She made the buying process a lot easier for us through her knowledge of the area and house buying experience. She was there for us every step of the way, extremely responsive and efficient. Royce makes sure that her clients are taken care of and treats the experience as if she herself were purchasing a house. If you want to know exactly what you are getting yourself into and need someone to help make your life easier, I highly recommend Royce for your realtor.

Jaclyn
Royce made or home buying dream a reality. She is knowledgeable, straight forward and extremely responsive. She has a passion for this and it resonates through her work and relationships with her clients. She helped is get our first home and I will be looking to her for our next home.

Joann
Royce sold my husband and I our first home and our present one. She goes above and beyond her job to ensure that everyone's needs are met. She's organized, punctual, professional, kind-hearted, and truly cares for her clients. I would recommend Royce to anyone who needs a realtor and I wouldn't want to hire anyone else whenever we hoose to buy a bee home.



Marian
It was great working with Royce! She helped my family purchase our first home. She is highly recommended!



DB

We are so happy we chose Royce as our realtor in buying our first home. She guided us throughout the entire process. She always checked up on us and always responded to my text/phone calls. She made sure we were happy and 100% satisfied with everything. I don't trust too many people out there and I usually can tell when someone is truly genuine and cares about her clients, she was the right person to help us. Anyone I know who needs a home, I definitely will be recommending her. We are very happy with our brand new home. This home buying wasn't easy and was at times stressful but we couldn't have done it without her. Thank you so much Royce!

Dania